Today my dad would be 72 years young. Sadly, this is the 11th birthday that he has celebrated in heaven. He wasn't alive when I got into baking, but I'm sure that he would enjoy sampling any of the goodies I make. There are often times when I think of him when I'm making things, especially around the holidays. He was my mom's sous chef and he would help her prep things in the kitchen before every holiday meal. All his life he worked so hard, working crazy shifts, sleeping when most people are out and about, missing out on the little things we had in school. He was always at the important things though and he always enjoyed his time off on holidays. Something he was a huge fan of was cherries. He LOVED black forest cherry cake! While this is a recipe for Cherry Cheesecake Cupcakes, I'd like to think he would've enjoy them. 😉 Sending birthday hugs up to heaven. Love you daddy! xox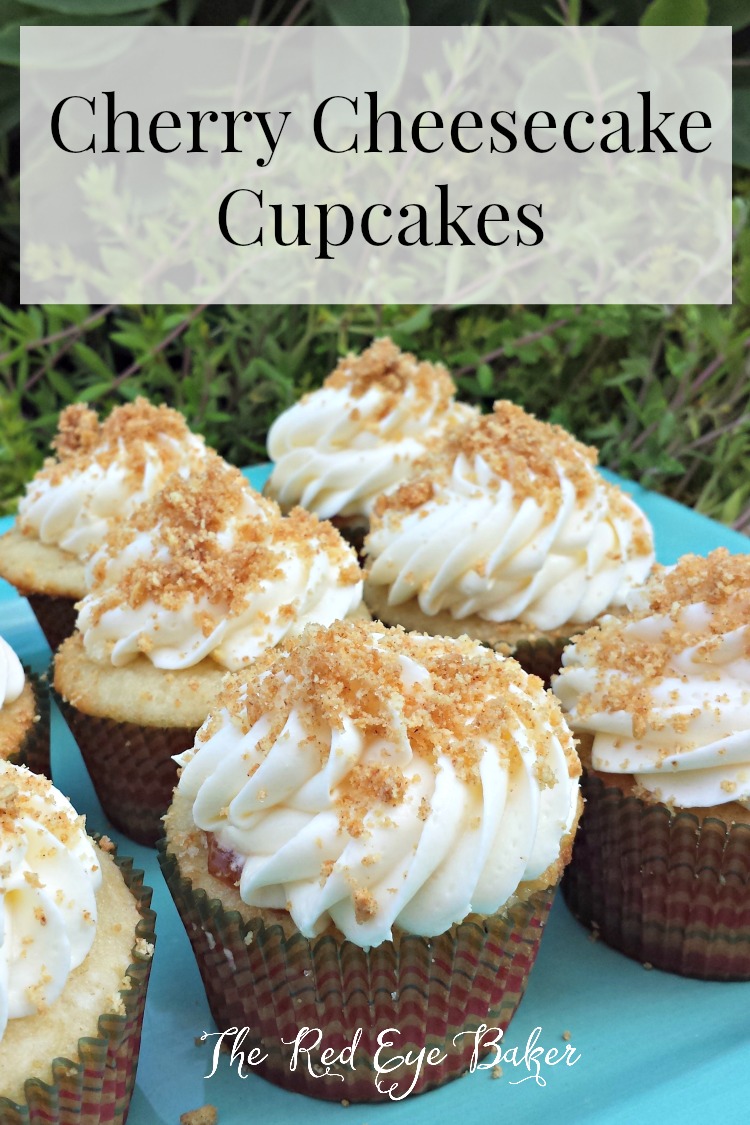 This post originally appeared on Sweet Tea and Saving Grace.
Cherry Cheesecake Cupcakes
Greetings! Hope everyone is enjoying their summer. I can't believe that it's almost half over! This month I whipped up some Cherry Cheesecake Cupcakes. Sure to please at your next barbeque or party. ? Enjoy!
Last month my cousin threw a surprise birthday party for her mom. She asked all of our family if we could help out with some of our best dishes and desserts. I made my aunt's birthday cake and I made these cupcakes with a homemade cherry filling that my mom made from cherries my aunt gave her.
Yes! My aunt has cherry trees and so many other fruit trees and a beautiful garden. Her home is very unique. It's decorated in the Polish Highlander style that she and my uncle did all themselves over 40 years ago. You truly feel like you're in Zakopane when  you are there… the only thing missing is a beautiful view of the Tatry Mountains. This is a picture of her foyer to give you an idea. All the wood details were hand carved (my uncle learned from his father-in-law) and the highlander dress that little girl doll is wearing was made especially for my cousin. She actually wore it when she was a little girl.
My uncle even carved a little village of beehives. That's what the platter of cupcakes is perched on in the picture below. There are no longer any bees there, but I do remember plenty of times when we were visiting that she had lots of beautiful golden jars of honey all over the kitchen. My only regret is that as a kid, you sometimes don't have a full appreciation for how special a jar of honey from your aunt is over a jar your mom got from the grocery store. I just know that it was good, but I was too young to savor any of the nuances that were likely there. LOL
So the cupcakes were a hit! The birthday girl and her guests enjoyed them very much. I actually probably should've made more. ? I made a nice vanilla cupcake, filled with cherry filling, topped with a yummy cream cheese frosting, and finally garnished with some graham cracker crumbs. Summery and tasty!
For the recipe and some really schnazzy pics of my aunt's old beehives click here.
xox Roxana