Nutella Cupcakes are pretty much where it all started for me where baking is concerned. I've always been more a baker than a cook, but when I made Nutella cupcakes for the first time is when I really caught the baking bug. I also caught the blog bug. I'd never really paid attention before then and now here I am with my own blog. Who'd a thunk? 😉 This is the evolution of the original recipe I made many years ago. I don't always make them this "fancy"… my oldest daughter in fact prefers them to be just the cupcake and buttercream.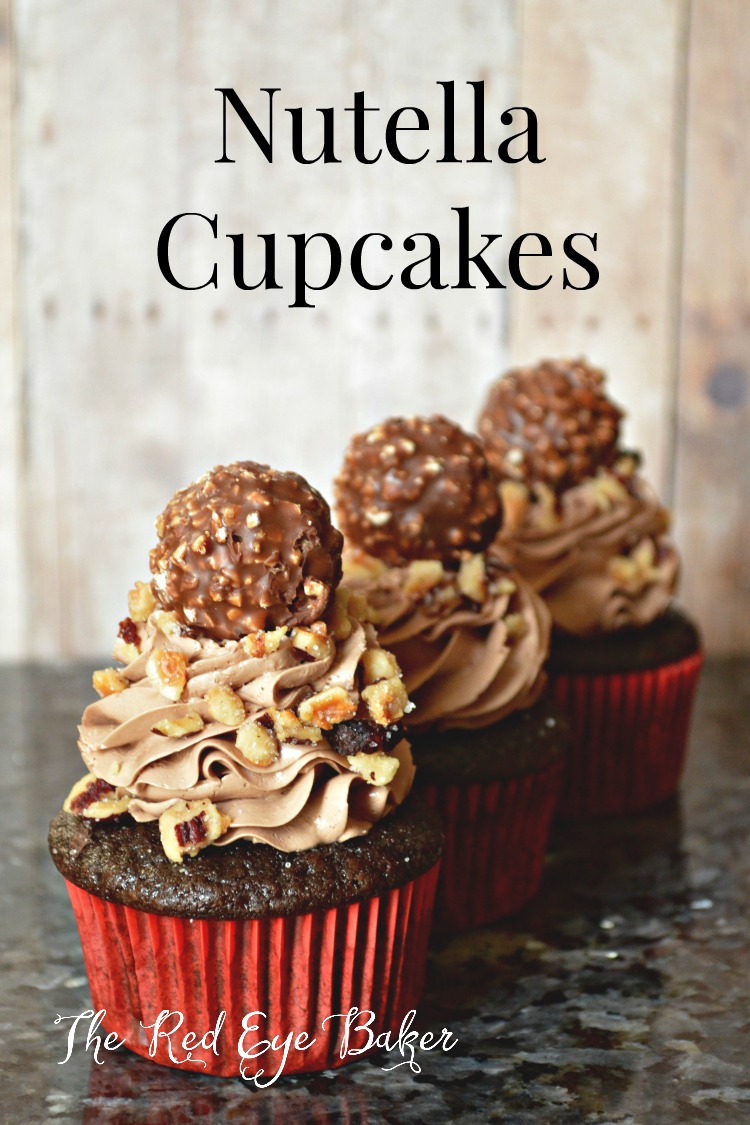 This post originally appeared on Sweet Tea & Saving Grace as…
Nutella Cupcakes with Toasted Hazelnuts & Seasalt
Can you believe that February is here?! Valentine's Day is upon us… love is in the air and where there is love there is chocolate AND Nutella!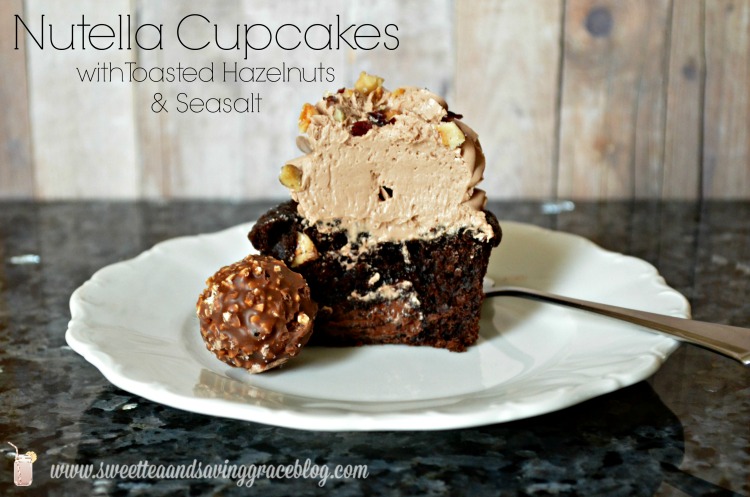 I can't even begin to guess how many batches of Nutella cupcakes I have made over the last few years. My family and friends really like them, my oldest daughter has to have them at EVERY birthday party, and they're always a hit at Mother's Club meetings.
This was actually the very first cupcake recipe that I made that introduced me to the wonderful world of blogs and sparked my interest in baking. I found the recipe on Your Cup of Cake. Lizzy's beautiful photography drew me in and I was intrigued by the fact that she used box mixes as a base, but she doctored them up by using things like sour cream, buttermilk, or extracts which resulted in enhanced flavors and moist, delicious cupcakes.
Over the years I've strayed from the original recipe slightly. The first thing I changed was the frosting after my husband thought the original was too sweet. That's when I learned to make Swiss meringue buttercream. With the Nutella mixed it I swear it tastes like heaven!
My goal for the recipe this time was to make it completely from scratch. Nothing against box mixes… they serve me well in a pinch. I just love being able to put all the ingredients together myself and have something super tasty in the end that I created from start to finish. One of the challenges that I've had, is having a chocolate cake batter that was thick enough to hold the dollop of Nutella without dissolving into the cupcake or sinking to the bottom and creating a sticky crust. No bueno!
I'm very happy with how these turned out! Moist chocolate cake with a Nutella center, topped with a silky Nutella Swiss meringue buttercream, and to make them a bit more "grown-up", I've garnished them with toasted hazelnuts, seasalt, and a Ferrero Rocher. So, indulge in some delicious Nutella Cupcakes With Toasted Hazelnuts and Seasalt and have a lovely Valentine's Day! ?
Click here for the recipe.
xox Roxana