The evolution of my anniversary cake comes to a conclusion. I'm sharing some tips for Decorating a Fall Themed Cake today.
Decorating a Fall Themed Cake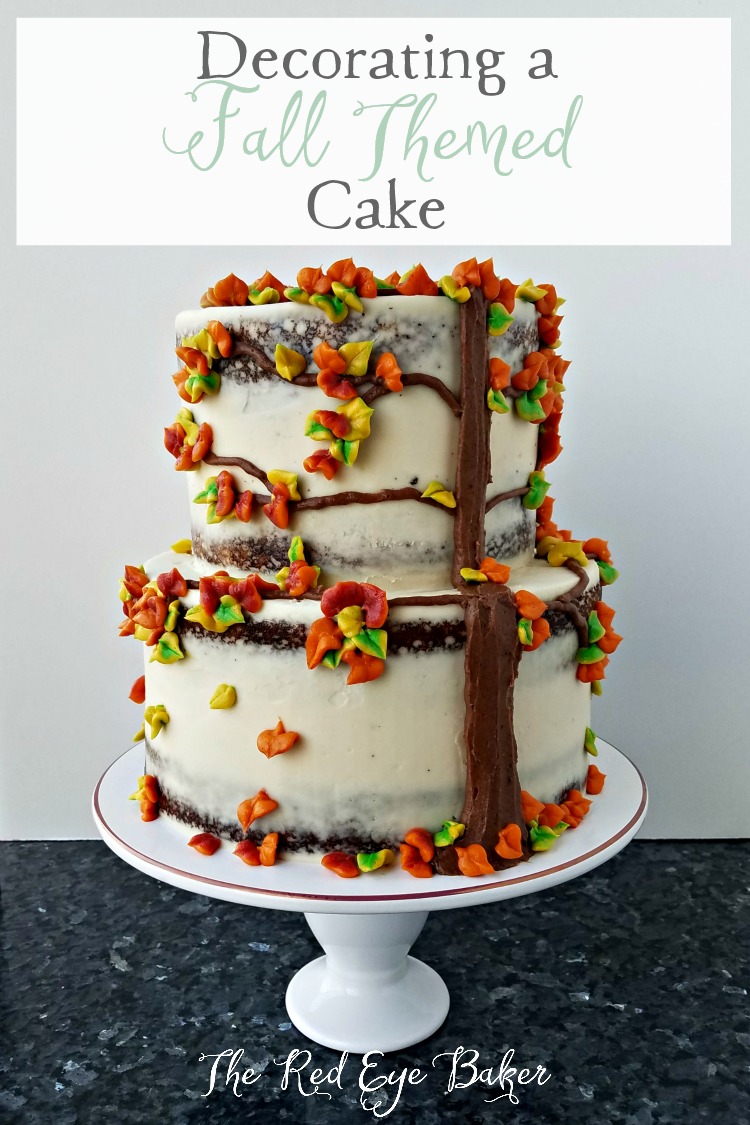 Appropriately today happens to officially be the first day of fall, so Happy Fall Y'all!! 😉 I love this time of year… even though our weather this week in Chicagoland has been very uncharacteristic for mid-September. We've been hitting record highs into the 90's… Summer is just not quite ready to let go.
Alas the trees have begun to change color and we've already made it out for some apple picking. So even though it's still shorts weather seeing the changing colors, the pumpkins, and the corn mazes is exciting. The colors of all those falling leaves is what inspired me with the idea on how to decorate this cake.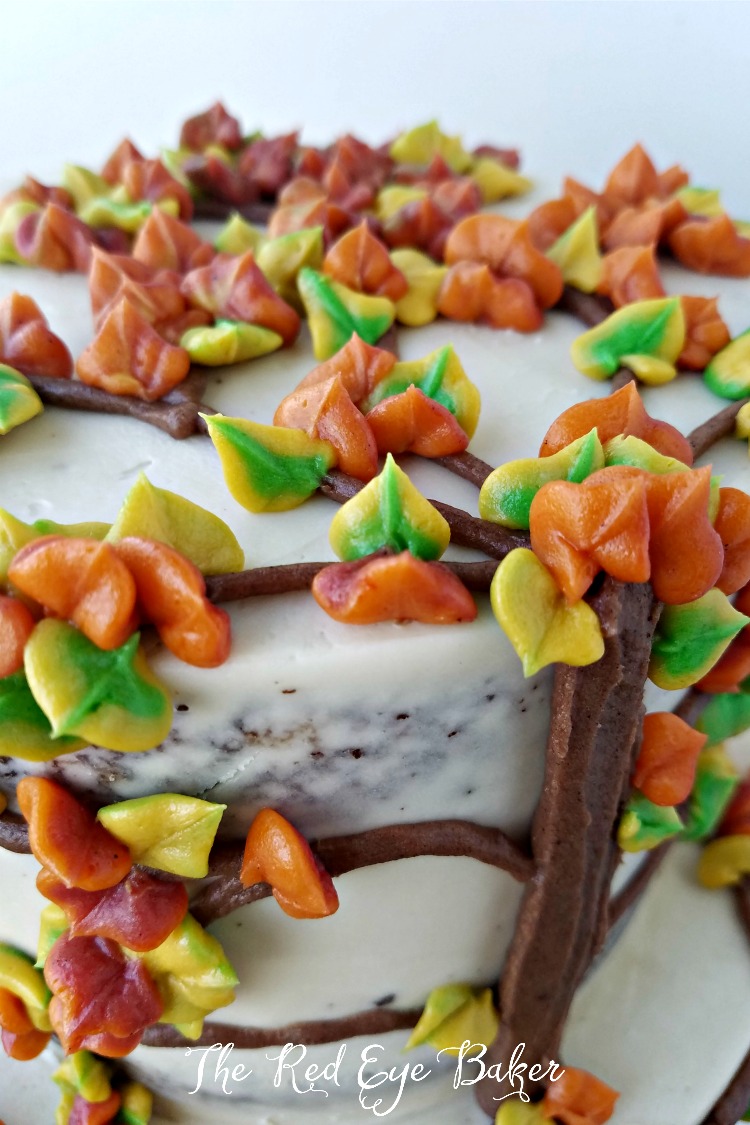 *This post contains affiliate links, which means that I receive a commission if you make a purchase using one of the links. There is no additional cost to you.
Here are the supplies you'll need for decorating a fall themed cake:
cake- with your desired finished coat of buttercream. (I went with a 6″ stacked on an 8″ and did a more rustic unfinished buttercream coat… because I dig it and wanted to see what it would look like decorated with a piped design.)
various piping tips like the ones in this set (affiliate link) (I used round tips- Wilton 3 and Wilton 12 and a leaf tip- Wilton 352)
disposable pastry bags (affiliate link)
gel food coloring (I used Wilton gel colors- buttercup yellow, orange, red (no-taste), and leaf green. For the brown of the tree trunk I just mixed cocoa powder with the buttercream
buttercream for decorating (I used this recipe)
cake turntable (affiliate link) (not a must, but I would definitely recommend it especially if you really enjoy decorating cakes.)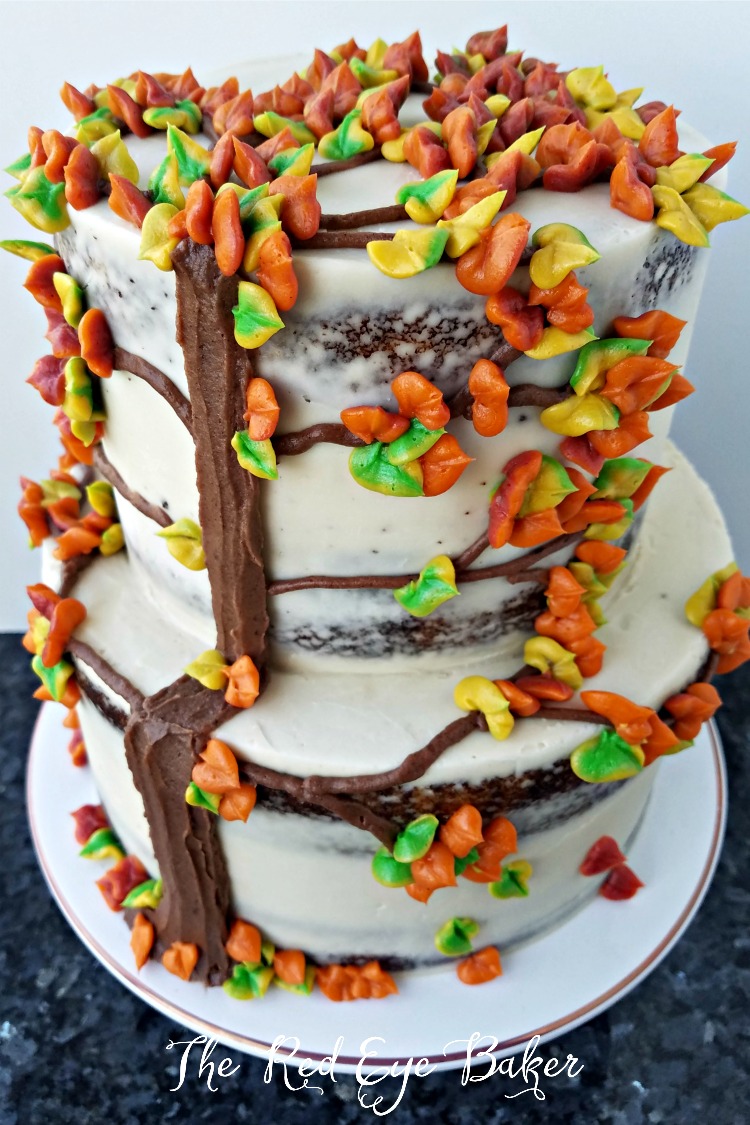 Decorating a fall themed cake:
If it all possible, begin with a chilled cake. It's easier to decorate that way. If you are pressed for time you can pop it in the freezer for 15 minutes.
I generally don't plan out designs. I just grab my piping bag and pretty much wing it, but if you want to give yourself a guide or preplan what you're going to do then you can use a toothpick to lightly draw your design on the buttercream.
For this design I started with the trunk of the tree and then piped a few branches coming off the main trunk. I put the cake in the freezer and then using an offset spatula I flattened the main trunk a bit and added a little texture.
Next I prepped my bags (fitted with a leaf tip) with buttercream using this saran wrap technique. I put green and yellow together and put orange and red together to get that two toned effect.
I began by piping yellow and green leaves randomly along the branches and repeated with the orange and red. Here is a good video demonstrating how to decorate using a leaf tip. The only thing I will caution is that you could get into the groove piping your leaves here there and everywhere. Be sure to step back and make sure that you're happy with the balance and add more leaves or stop piping in a certain section as you see fit.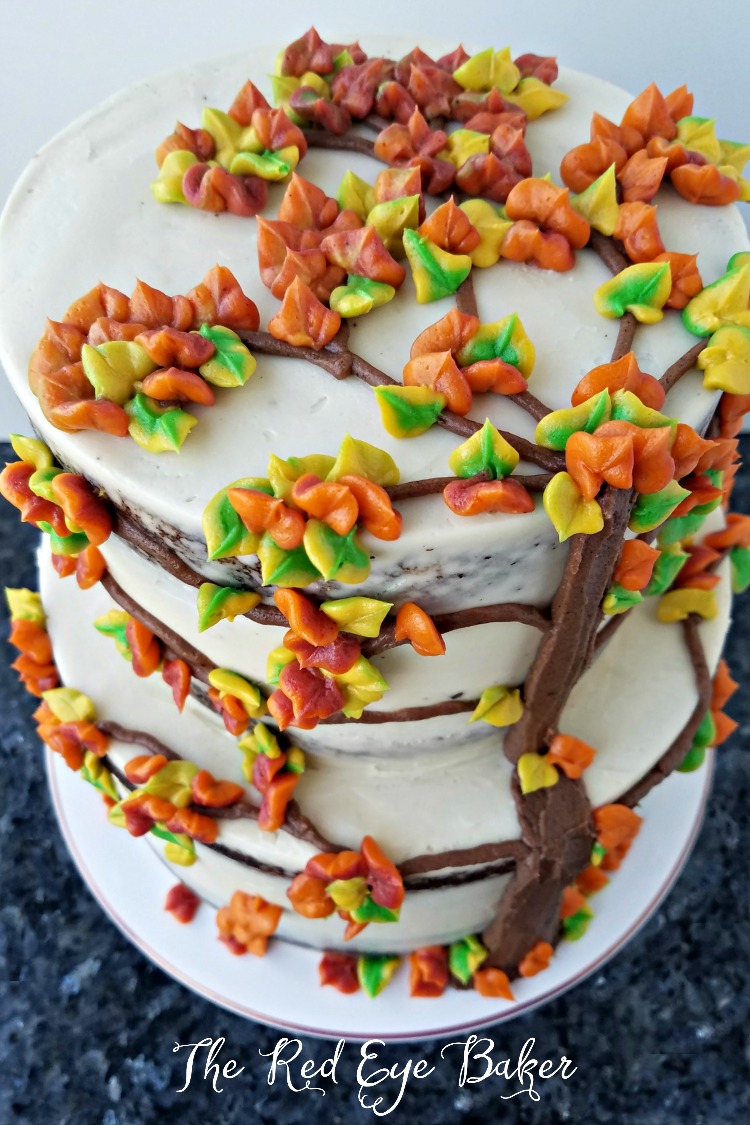 As with any art, cake decorating takes patience and practice. Remember it's just buttercream. If you don't like it you can switch gears and make a "watercolor" fall themed cake or if you are super patient you can put the cake in the freezer and carefully remove any of the leaves you didn't like with a toothpick. It's all good, just have fun!
I hope this has inspired you to grab a piping bag and try your hand at Decorating a Fall Themed Cake this weekend!
xox Roxana